The tradition continues! The annual St. Pats 5K will take you through the streets of Lucan, starting and finishing at the Lucan Community Memorial Centre (263 Main Street).

SIGN UP HERE:


Course Route

Here's the route.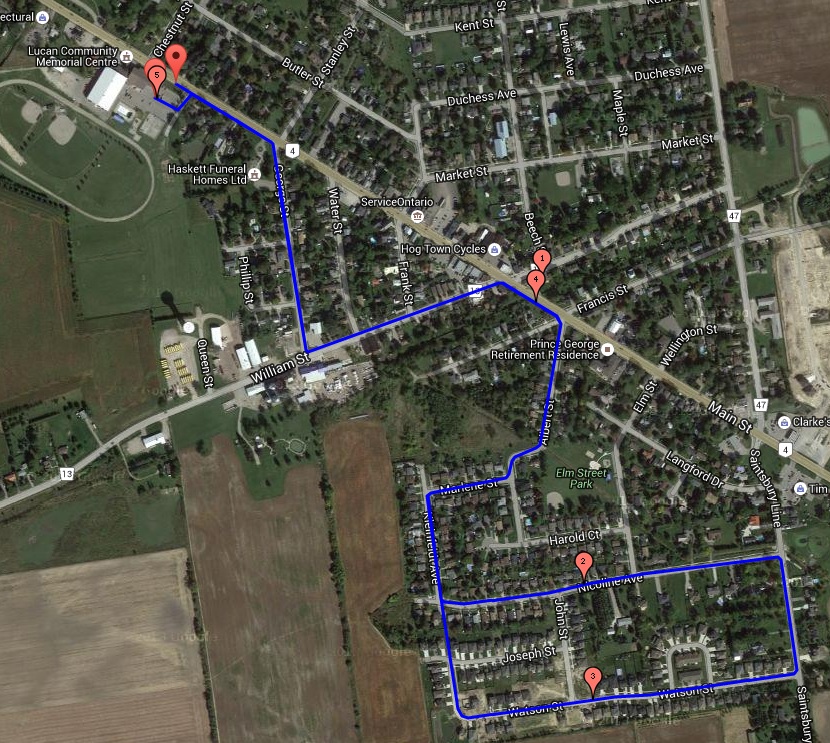 http://www.gmap-pedometer.com/?r=6813091

The starting bugle will sound at roughly 2:00 sharp for the 5K Walk. We'll run the Kids 1K at 2:10 sharp, and then get the 5K Road Race going at 2:30 sharp. We should all be back in the Community Centre for some hot Irish stew and listen to the Celtic band Trunk 19 shortly after 3 pm!

THERE IS NO CHARGE FOR THIS RUN....

Even though there is no charge, we need to know if you're coming to ensure we have enough supplies.

...BUT WE WILL BE PASSING THE HAT.

We will be 'passing the hat', though, so if you could bring some spare change with you ($10's and $20's qualify as "change"), it will help us out with some of the costs associated with holding the event. Any excess funds after expenses are covered will go to support minor sports in Lucan.

VOLUNTEERS:

We can always use some volunteers to help out at water stops or at specific locations (where runners might get lost) on the route. If a friend or family member will be attending the race with you, let us keep them busy supporting other runners. Just sign-up on our registration form, above!

RULES OF THE ROAD / RUN AT YOUR OWN RISK:

This is a fun run, and there is no charge. We'll be keeping track of your finish times, but other than that you should consider this a fun run / training run. There won't be police escorts for the leader or at the street crossings. By entering this race/run, you'll need to look both ways as you cross the street so that you don't get hit by a car, combine or stray cow. Run facing traffic, and pull over to the side on the off chance that there are any oncoming cars or combines during the run.

SIGN UP SOON:

Note that this event is an "invitational" race/run. If you are reading this page, consider yourself invited. And tell your friends they're invited, too. There will be more info as the big day draws near..

WAIVER: By virtue of running this 5K route, participants and volunteers agree to indemnify and hold harmless the Shamrock Running Club, Lucan District Lions Club, their executive, members, instructors and agents and the owners of the facilities and premises at which any Club activities may be held of and from any and all claims, or claims by any member of their family or any other person accompanying them or attending as their guest at any training session or competition or other event of the Shamrock Running Club or while in or on the training facilities, premises, grounds or the surrounding area thereto, including any claim arising as a result of any action or inaction by the Shamrock Running Club, its executive, members, instructors and agents or the owners of the facilities and premises, whether through negligence or otherwise.